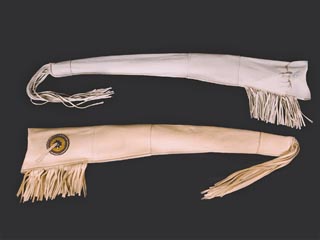 ©2004 K. C. Miles Leatherworks
Click here to enlarge image
Shown with optional beaded rosette
These long gun cases are constructed of a natural color, grade #1 elk hide. Cases feature double thickness at the receiver and at the muzzle end, and have an elk antler button closure. Scabbards are custom made to fit your particular rifle and are of the highest quality. Made for most lever action, single shot, and muzzle loading rifles.
Lever action rifles

Up to 24" barrel length

$157.00

Over 24", add $7.00 per inch

Single shot rifles
Up to 30" barrel length

$170.00

Over 30", add $7.00 per inch

Muzzle loading rifles up to 46" overall length

$160.00

Muzzle loading rifles up to 64" overall length

$195.00

Note:

Muzzle loading rifle cases will be doubled at muzzle end only. Please give overall length from muzzle to butt.

Handmade Native American rosette add $40.00 each
Click here for measuring/order information
Custom Beaded
Elkskin Rifle Case


©2004 K. C. Miles Leatherworks
Click here to enlarge image
This stunning case was made for a model 1873 Winchester with a 26" barrel. It is constructed of brain tan elkskin and is beaded in a Blackfoot pattern. Many different beading patterns are available and we can design a custom case for your favorite long gun. Available for lever action and single shot rifles. All prices are on a custom quote basis. Please call or e-mail for availability and price.
Click here for measuring/order information