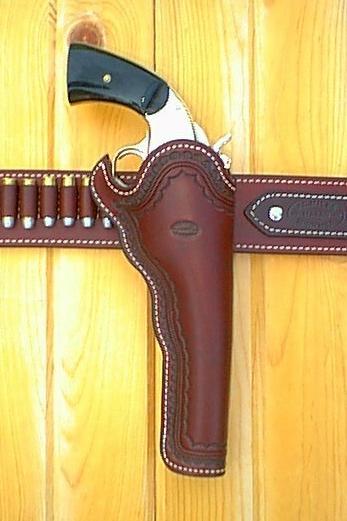 ©2004 K. C. Miles Leatherworks
Click here to enlarge image
Tooling #545
This holster is specifically designed to meet the special needs of the Schofield revolver. Many of the holsters we see today supposedly designed for the Schofield revolver create a real problem when the pistol is holstered. The contours of these holsters undo the barrel latch when the revolver is seated in the pouch. This can be very dangerous when the gun is drawn to fire.
Our Schofield holster not only eliminates this problem, but follows the contours of this unique revolver, creating a very attractive and practical holster. Features border tooling and is fully lined.
Available in 5"and 7" barrel lengths, straight or cross draw, for Navy Arms Uberti, Smith & Wesson performance center and original Schofields.
Schofield Matching Rig (Holster & Cartridge Belt)

$250.00

Note:
Second Holster

Add $125.00

Cartridge Belt Sizes Over Size 42"

Add $20.00
Click here for measuring/order information